During my holidays, I actually managed to read a few books! It got me thinking about books and series that I have read recently that I have loved so much I didn't want to put them down.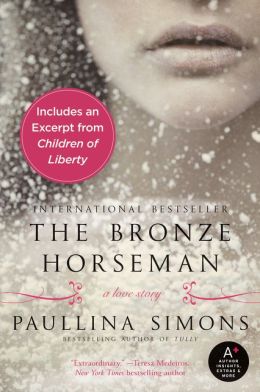 Based in war time Russia when Hitler is starting his battle towards Leningrad, The Bronze Horseman follows two sisters Tatiana and Dasha who live in a cramped apartment with their parents and brother. The family has their world turned completely upside down by Hitler and his army. Tatiana the younger of the sisters, meets a Red Army soldier named Alexander and they are instantly drawn to one another. However their relationship, should it become public, threatens to tear Tatiana's family apart and expose a secret Alexander has been keeping his whole life.
If you enjoy war time love stories, this book is a must read. I absolutely adored this book and would read it again in a heart beat. It was one of those "I can't put it down" kind of books that had me captivated the whole way through.
This book is actually book one of a three part series (The Bronze Horseman). After enjoying the first book so much, I couldn't wait to get into the second book. However, I have found it very hard to get into as I found it to be quite similar to the first book. I will try to read it again as I know people have enjoyed all three books.
Find more book reviews here.
An incident at a family party when Laurel Nicolson was 16 challenges everything she knows about her family especially her mother Dorothy. 50 Years later, Laurel returns to her family home, the scene of the incident so many years ago and finds herself asking questions she has kept hidden for decades.
I must admit, it took me a while to get in to this book. I started it just before we went on holidays, so I was reading it quite sporadically, but once I got in to it I could not put it down. It does swap between the past and the present and while that can put some people off, it didn't worry me too much (one of my all time favourite authors is Jodi Picoult and all of her books either swap between people or time periods!). I will say there is a bit of a twist during the book that I never saw coming - I love it when that happens in a book especially when you think you have everything all worked out!
You can read more reviews here.

After losing her job, Stephanie Plum offers to catch her high-school crush for her bounty hunter cousin Vinnie. The series follows her as she chases after fugitives, all the while caught up in a steamy love triangle with her high-school crush turned cop Joe Morelli and Ranger, a security enforcer / sometimes bounty hunter.
I have read a few mixed reviews about this series. Personally, I found the books to be light reading, but very addictive. I loved the love triangle (which got quite steamy at times) and could not wait to start each new book. You can read the books out of order, but there are references to past books so I would suggest you read them in order - if you can get through the whole 19 - 20 books in the series!
You can read more reviews here.
Neve Slater has always been a girl who plays by the rules. She meets William, a gorgeous handsome young man and she knows that girls like her do not get men like him. So when he heads of to LA for three years, she spends her time slimming down and re-inventing herself. She also realises she needs some much needed experience in the bedroom so she can suprise William when he returns. Her sister Celia takes her to a work function to meet some men when she meets Max. Definitely not her type, but perfect to try her skills on because she could never fall for him...or could she?
Another light read (sometimes you need these!) but I seriously could not put this book down (which annoyed my Mr just a little!)
You can read more reviews here.
Have you read any good books lately?
- J x
Please click here to see my disclaimer policy.